CD Reviews
Bob Dylan
Infidels
Copyright 1983 CBS Inc.
www.bobdylan.com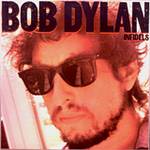 The word Israel isn't spoken or written anywhere on this recording. But Israel takes center stage for several tracks on Infidels. There's a photo of Bob on the inside sleeve with Jerusalem in the background. The title of the album is a little suspicious as well.
Infidels has a bluesy/country feel to it. Bob Dylan's raspy and flat vocals have a lot of heart and proves that a musician can succeed without having a good singing voice. The lyrics are thought-provoking, sarcastic and sometimes indecipherable.
On the fast, country tinged Union Sundown, Dylan talks about the clothes he wears, none of which have been made in America. I am I and Don't Fall Apart on Me Tonight are mellow and sound similar to Dylan classics It Ain't Me Babe, or Just Like a Woman. Many songs featured harmonicas and slide guitars and are structured like blues songs, not like ballads with sing-along choruses.
Man of Peace reminds one of leaders like Yassir Arafat, with its refrain of "sometimes even Satan comes as a man of Peace." Lyrics of shaking hands and good intentions gone bad could be about the Camp David accords of today if they weren't written during the Camp David Accords of 1983. Wasn't it Bob Dylan that also sang "where have all the flowers gone/when will they ever learn?" But the listener is apparently left to make that judgement independently.
For someone interested in the Jewish connection Neighborhood Bully is the real standout. It isn't musically superior, but the lyrics hit hard. Menachem Begin, Iraq's Osirak nuclear reactor are all invoked without mentioning any of them by name and make for one of the most political and pro-Israel songs in English.
Neighborhood Bully
Well, the neighborhood bully, he's just one man,
His enemies say he's on their land.
They got him outnumbered about a million to one,
He got no place to escape to, no place to run.
He's the neighborhood bully.
The neighborhood bully just lives to survive,
He's criticized and condemned for being alive.
He's not supposed to fight back, he's supposed to have thick skin,
He's supposed to lay down and die when his door is kicked in.
He's the neighborhood bully.
The neighborhood bully been driven out of every land,
He's wandered the earth an exiled man.
Seen his family scattered, his people hounded and torn,
He's always on trial for just being born.
He's the neighborhood bully.
Well, he knocked out a lynch mob, he was criticized,
Old women condemned him, said he should apologize.
Then he destroyed a bomb factory, nobody was glad.
The bombs were meant for him.
He was supposed to feel bad.
He's the neighborhood bully.
Well, the chances are against it and the odds are slim
That he'll live by the rules that the world makes for him,
'Cause there's a noose at his neck and a gun at his back
And a license to kill him is given out to every maniac.
He's the neighborhood bully.
He got no allies to really speak of.
What he gets he must pay for, he don't get it out of love.
He buys obsolete weapons and he won't be denied
But no one sends flesh and blood to fight by his side.
He's the neighborhood bully.
Well, he's surrounded by pacifists who all want peace,
They pray for it nightly that the bloodshed must cease.
Now, they wouldn't hurt a fly.
To hurt one they would weep.
They lay and they wait for this bully to fall asleep.
He's the neighborhood bully.
Every empire that's enslaved him is gone,
Egypt and Rome, even the great Babylon.
He's made a garden of paradise in the desert sand,
In bed with nobody, under no one's command.
He's the neighborhood bully.
Now his holiest books have been trampled upon,
No contract he signed was worth what it was written on.
He took the crumbs of the world and he turned it into wealth,
Took sickness and disease and he turned it into health.
He's the neighborhood bully.
What's anybody indebted to him for?
Nothin', they say.
He just likes to cause war.
Pride and prejudice and superstition indeed,
They wait for this bully like a dog waits to feed.
He's the neighborhood bully.
What has he done to wear so many scars?
Does he change the course of rivers?
Does he pollute the moon and stars?
Neighborhood bully, standing on the hill,
Running out the clock, time standing still,
Neighborhood bully.
Copyright © 1983 Special Rider Music
---
Man of Peace

Look out your window, baby, there's a scene you'd like to catch,
The band is playing "Dixie," a man got his hand outstretched.
Could be the Fuhrer
Could be the local priest.
You know sometimes
Satan comes as a man of peace.

He got a sweet gift of gab, he got a harmonious tongue,
He knows every song of love that ever has been sung.
Good intentions can be evil,
Both hands can be full of grease.
You know that sometimes Satan comes as a man of peace.

Well, first he's in the background, then he's in the front,
Both eyes are looking like they're on a rabbit hunt.
Nobody can see through him,
No, not even the Chief of Police.
You know that sometimes Satan comes as a man of peace.

Well, he catch you when you're hoping for a glimpse of the sun,
Catch you when your troubles feel like they weigh a ton.
He could be standing next to you,
The person that you'd notice least.
I hear that sometimes Satan comes as a man of peace.

Well, he can be fascinating, he can be dull,
He can ride down Niagara Falls in the barrels of your skull.
I can smell something cooking,
I can tell there's going to be a feast.
You know that sometimes Satan comes as a man of peace.

He's a great humanitarian, he's a great philanthropist,
He knows just where to touch you, honey, and how you like to be kissed.
He'll put both his arms around you,
You can feel the tender touch of the beast.
You know that sometimes Satan comes as a man of peace.

Well, the howling wolf will howl tonight, the king snake will crawl,
Trees that've stood for a thousand years suddenly will fall.
Wanna get married? Do it now,
Tomorrow all activity will cease.
You know that sometimes Satan comes as a man of peace.

Somewhere Mama's weeping for her blue-eyed boy,
She's holding them little white shoes and that little broken toy
And he's following a star,
The same one them three men followed from the East.
I hear that sometimes Satan comes as a man of peace.

Copyright © 1983 Special Rider Music